Mabel's Labels are customized name labels that adhere (and stay!) on just about everything.
By ordering Mabel's Labels through the Adam Beck School Council fundraising site, 20% of your order comes back to School Council to be spent on initiatives that directly impact our kids!
Order your next Mabel's Labels from our fundraising site, which can also be found by searching "Adam Beck School Council" at campaigns.mabelslabels.com.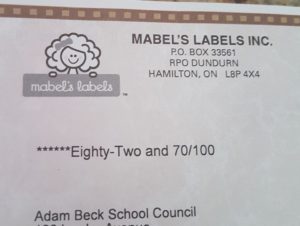 Questions?
Mabel's Labels Committee          [email protected]