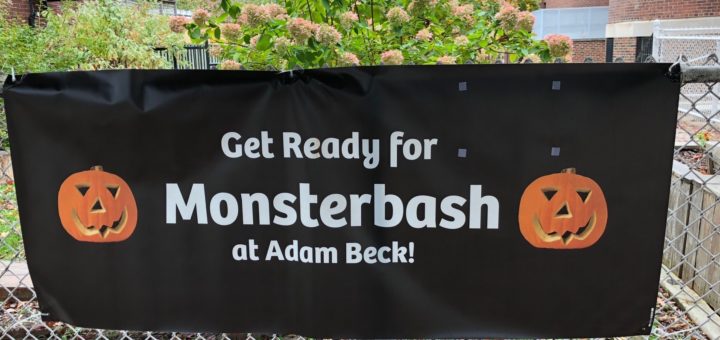 Monsterbash is a spook-tacular Halloween party, our first big fundraising event of the school year. This year, Monsterbash is Saturday, October 27.
Come in costume!
It's an evening of spooky fun, games, treats, and activities for kids of all ages. Over the years, Monsterbash has featured the monstrous Haunted House (our most popular attraction), a spooky science lab, creepy-crawlies from Reptilia, cute animals from Pawsitively Pets, and much more. Ms. Smith leads the students in the world-famous Monstermash dance.
Join for dinner
Choose from hot dogs; pizza; homemade mac and cheese, chili and cornbread; chips; juice; popcorn; coffee and much more. A bake sale table offers the most amazing Halloween treats.
Volunteer
Monsterbash needs the help of many volunteers  – including grade 5 and  students – for
help organize and assist volunteers
set up the haunted house
be a "scarer" in the haunted house
set up and oversee games and activities
sell wristbands and tickets
sell and serve food and baked goods
cook mac and cheese, chili and cornbread and baked goods for sale at the event
barbecue hot dogs
help clean up after the event (did you know we only have one hour to take everything down and clean all the areas we have used?)
Join our colouring contest
We are running a Monsterbash Halloween Colouring Contest with Ella Minnow Bookstore (located at 991 Kingston Road.) Teachers will be handing out colouring sheets in their classrooms this week.
There are three categories – Kindies, Primary, and Junior. Kids should take their coloured pages directly to Ella Minnow, and the store staff will post a selection in their window as they come in. All sheets must be delivered to the store by October 30th in order to qualify. There will be one prize winner in each category (kindies, primary, and junior) chosen randomly by the staff of Ella Minnow, on October 30th. Prizes will consist of two books with a combined retail value of $20 (titles to be chosen by Ella Minnow.)
Please ensure your phone number and/or email is listed on the form so that the store can contact you if your child's entry is chosen. We will also have colouring sheets at Monsterbash, and we'll aim to have the link to the colouring sheets on the Adam Beck FB page in case your child loses their sheet.
Any questions can be directed to Karen McMullin at karen.mcmullin@bell.net.
Thanks for your support! Karen McMullin & Kristine Holder, Leads Monsterbash 2018
P.S. Don't forget, if you're picking up books at Ella Minnow for birthday gifts, weekly reading, or otherwise, mention your child goes to Adam Beck, and we'll get credit towards our library!
Contact us
Monsterbash Committee:  monsterbash@adambeckcouncil.ca
Join us at Monsterbash. It's so much fun, it's SCARY!